I'm hoping to create a somewhat automated way to probe my Versabuilt vise to create a work offset for it in order to ease training the position of the vise jaws. There's quite a few moving parts in this idea, so I wanted to validate it a bit and get feedback on this approach before diving in.
Mechanical:
First of all, mechanically, the VersaBuilt gripper has a couple of unused tapped mounting holes that I think I will 3D print a bracket for to hang a standard 0.75" shank probe from, TTS-or-compatible. I'll post the models of that when I get it dialled in. This should allow the probe tip to hang just below the gripper and stay basically permanently mounted, and more importantly, allow me to create a fixed tool offset for the probe tip so that I can set that for the subsequent operations.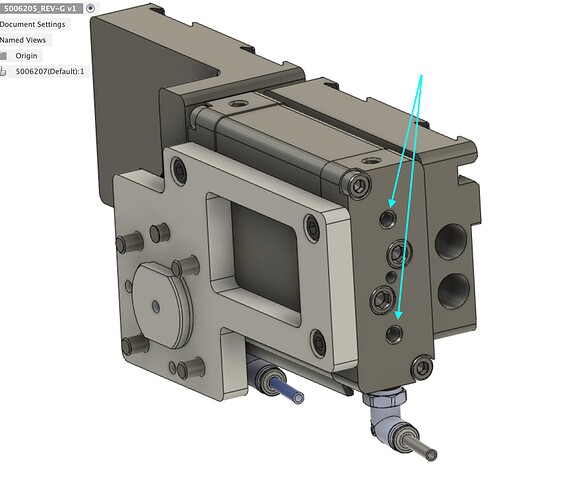 Probing Sequence
With the probe mounted, I am imagining instructing the user to jog the probe tip over the bottom right corner of the vise, then I think there are two discrete probing sequences that occur (unless there's a better way to do this).
Vise X,Y - Probe bottom right corner, and then use vise dimensions as a cue to probe two other points to determine X/Y vectors of vise.

Vise Z - Once position of vise is known, probe 3 points on Z to establish Z plane of vise.
I am imagining using the basic probing function for grabbing these points.
contact_pose = probel(probe_goal_pose, a=0.5, v=0.01, v_retract=0.1, away=False)
Work Offset Calculation
This is the part I am slightly unclear on, although maybe it will become more apparent as I dive into it.
I believe, based on my probing, I should have the data required to input to:
robot_command.calibration.calculate_work_offset_4(origin_wp, x_axis_wp, y_axis_wp, position_wp) -> robot_command.rpl.Pose
The only thing here, is that I'm a little worried about how to compute position_wp. I am imagining in an ideal world, this would be basically the XYZ of say the bottom right of the vise, but based on my probing, I am going to have XY, but Z likely offset downward by 3mm or something for the probe tip. I think it will be close enough to just change to the Z of origin_wp if I sample them close together - but open to feedback on that one if there's a better way to define the work offset.
In an ideal world, what I'd like to end up with is a work offset where the origin is the bottom right corner of the vise, and the plane matches the Z surface of the vise.
Does this sound like a reasonable approach, or am I over-complicating things?